Phenomenal Calima wind in Tenerife
Often travellers coming to Tenerife find the island let's say so – strange… Everything as in a fog and the feeling is really strange visibility is reduced and winds are very strong sometimes. Usually people are visiting Tenerife for a week or two and Calima wind can be for 3 day to 30 days (usually at winter time) so people think it's normal here, but it's not. Well, Calima is regular thing in Tenerife, but completely not predictable. It can be or not and you never can guess when it's going to happen next time.
What's Calima?
Calima is a wind from Sahara desert in Africa. Since Sahara desert is the biggest desert area on the planet, sometimes strong winds blow up to the air the dust-laden layer to the altitude even to 6km  or 4 miles and the wind direction is usually East to West. That means Canary Island meet it first and cannot avoid Calima.
Here you can see Calima from the space – how it's looking: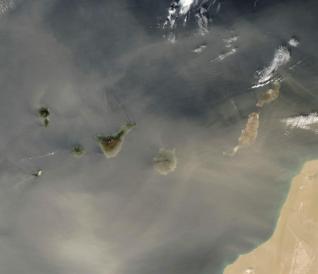 Tenerife Host have Customer whole the world around and it surprising, one of our Customers who took a VIP private tour in Tenerife and he is from Puerto Rico, told us the Calima reach Puerto Rico sometimes. You can imagine how strong this wind is, if it can bring the dust from Sahara to Puerto Rico across Atlantic Ocean.
Well, most of time we have nice and pleasant weather on the island, except when it is Calima going through Tenerife. So, we wish you come here and do not meet Calima 🙂 Have a happy days in Tenerife, but, if you will meet it, just try to enjoy this phenomena.