Koi fish in Loro Parque
Taking a private tour or a bus tour to Loro Parque in Tenerife you can see hundreds of colorful koi fish right stright  after the entrance.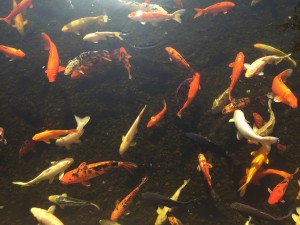 An interesting fact: if you have a completely white koi fish, you can sell it in Japan as much as even 15000€ per peace. Is that completely white koi fish is taken as the ideal of a koi fish in Japan. There are a few white koi fish living in Loro Parque's ponds.
With Tenerife Host you can book online VIP private tour to Loro Parque: http://www.tenerifehost.com/loro-parque-tenerife-vip-private-tour/c1s18 or inexpensive coach excursion to Loro Parque from the Southern coast of Tenerife:  http://www.tenerifehost.com/bus-tour-excursion-loro-parque-express/chmw
Enjoy your happy and active holiday in Tenerife. With Tenerife Host each your day in Tenerife can be unique and full of  joy.